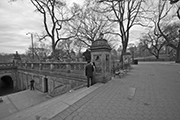 I first discovered my natural vocation as a tree photographer during a five-year sojourn in France. I lived a short walk from the Parc de Sceaux, "The Petit Versailles", on the outskirts of Paris, and was deeply struck by its landscapes and manicured beauty. As any photographer might, I sought to keep the initial sensation of unexpected inspiration and wonder witnessed therein. Several hundred pictures later I came to appreciate and explore the innately human quality of trees, their contours and sprawl. It has become the core element of my photographic composition.
Dance Images:
Helene Blackburn, Artisitc Director - Production Cas Public, Montreal (Quebec)
Michele Ava, Choreographer and Instructor - Joy of Motion, Washington DC
(Not for release without advanced permission from all parties.)
COMMENDATION
2013 IPA Honorable Mention Awards (6)
Nature/Trees and Fine Art Landscape (2 awards): "Jardin du Luxembourg"
Fine Art/Landscape:" Long Shadows of Twilight on a Ball Field in Riverside Park, NYC"
Nature/Trees: "Trees"
Editorial/Environment : "Hudson Shore"
Special/Digitally Enhanced: "Chez Monet, Giverny France"
2012 IPA Honorable Mention Award
Architecture/Bridge category: "Early One Monring Under the Newburgh-Beacon Bridge"
2011 Real People Exhibition, Northwest Area Arts Council, Illinois
---
COLLECTIONS
Galllery 1839 (London, England)